5 Best Headlamps for Hunting [2022]
Last Updated on July 28, 2022 by Brian Grossman
If you're looking for the best headlamps for hunting this upcoming season, you came to the right place. The list presented below is the result of hours of online research, as well as personal experience with some of the options, that should save you valuable time in your quest. That's time that could be better spent checking trail-cameras, shooting your bow, or scouring your favorite mapping app for potential deer stand locations!
A headlamp is an important but often under-appreciated piece of hunting equipment. A good headlamp will help you safely navigate to and from your deer stand, avoid dangerous obstacles, or follow a sparse blood trail. Picking the best headlamps for hunting isn't as sexy as picking out a new bow, rifle or treestand, but I would still encourage you to put some thought into choosing out the right one.
I wish I could point to one headlamp as the best option for everyone reading this, but it's not that simple. There is no perfect headlamp for hunting. If there was, it would be the only one on the market, and I would have no reason to write this article.
Features to consider in a headlamp
Every headlamp on the market has its own set of features and qualities. Picking the right one for you will largely be a balancing act in deciding which of those features is most important.
In many cases, a headlamp that has one great feature will likely suffer in another area due to that feature. For example, if you want the brightest headlamp for hunting possible, it will likely suffer in battery life compared to one that isn't as bright. So you have to decide if brightness is more important than battery life. I
f you want bright AND good battery life, you may have to sacrifice comfort by wearing a heavier headlamp with a large battery compartment that sits on the back of your head. Is that okay with you?
These are just a few of the features we'll look at for each headlamp so you can make an educated decision on which is best for you. The full list of features we'll look at to determine the best hunting headlamp includes:
Brightness (measured in lumens)
Battery life
Battery requirements and rechargeable vs. non-rechargeable
Comfort
Light color options (do they produce white, red, and/or green light)
With that, let's take a look at my 5 picks.
My Picks for Best Headlamps for Hunting
Overall Best Headlamp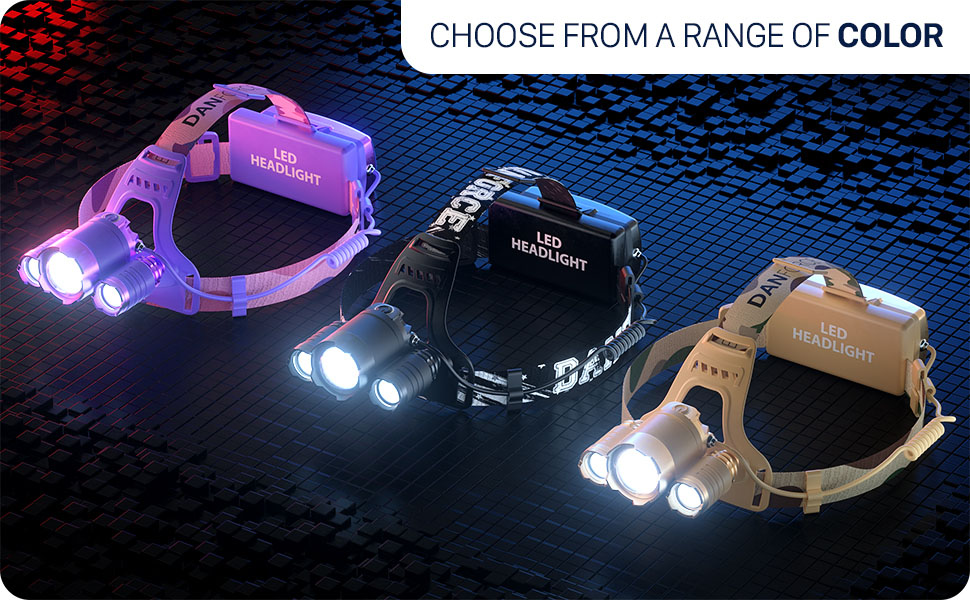 DanForce USB Rechargeable LED Headlamp
The DanForce headlamp is our top pick for best headlamps for hunting due to a variety of features we'll talk about shortly. These features have resulted in over 10,000 reviews on Amazon and an overall 4.6 out of 5-star rating.
The DanForce is plenty bright enough at 1080 lumens and features CREE LEDs known for their high performance output, lifespan, and stability. The headlamp features four light modes: high, low, medium, strobe, and also includes a red light that many deer hunters will appreciate. The headlamp has an adjustable beam that will come in handy for detail work like blood-trailing a deer.
The DanForce is powered by two 18650 lithium-ion 3.7v 2200mAh rechargeable batteries that will power the hunting headlamp for up to eight hours on high mode and includes a USB cable for charging as needed.
Additional features worth noting are the headlamps sweat resistant, adjustable headband for maximum comfort, and six color options to choose from. All these features are the reason the DanForce will be my go-to headlamp in 2022 for deer hunting.
Best Hunting Headlamp Runner-Up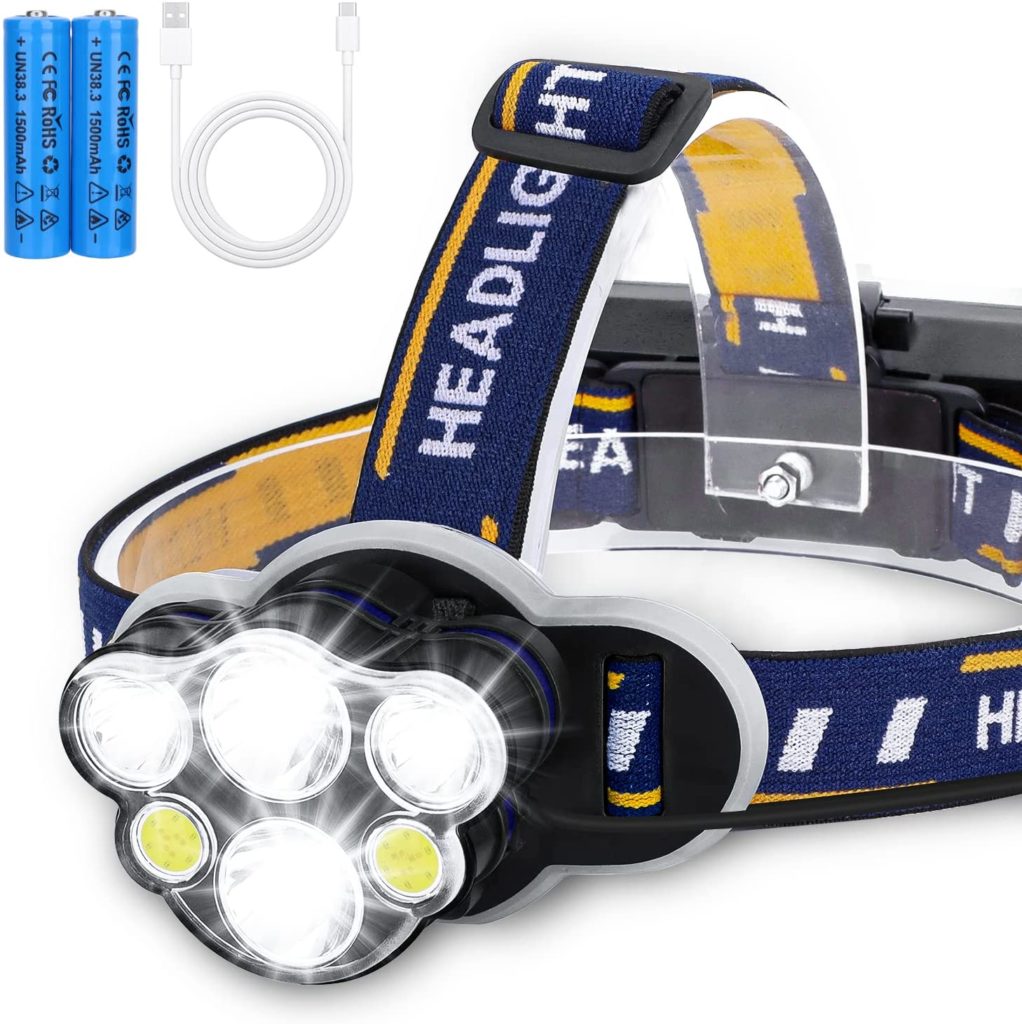 Elmchee Rechargeable Headlamp
This was my primary hunting light up until the time I lost it last season. While I would have no hesitation buying the same one again, I'm going to give the DanForce a try this season just to see how it performs.
The Elmchee headlamp includes six LED lights and eight different light modes, including two red light modes. This is one of the only lights on my list that doesn't make any claims on brightness or battery life.
What I can tell you from my experience is that it's plenty bright for both traveling to and from your stand, as well as for blood trailing a deer. I could get two to three hunts out of it before recharging, which isn't bad in my book. I can't tell you exactly how many hours that translates to, but for under $20 (at the time I write this), this one would be hard to beat if you're on a budget.
The fact that it has nearly 20,000 reviews and an overall 4.6 out of 5 rating on Amazon is a pretty good indicator I'm no the only one who thought it was a great hunting headlamp.
This headlight is made of aluminum alloy and ABS plastic that is IPX4 waterproof, snowproof, dustproof and shockproof. It includes two 1500 mAh rechargeable lithium-ion batteries as well as a charging cable. I believe this is the only hunting headlamp on our list with a red safety taillight on the back of the battery case that you can illuminate or strobe with the press of a button. That can be a great feature if you're hunting pressured public land and want to make sure you're seen regardless of whether the person sees you walking towards them or away from them.
Best Budget Headlamp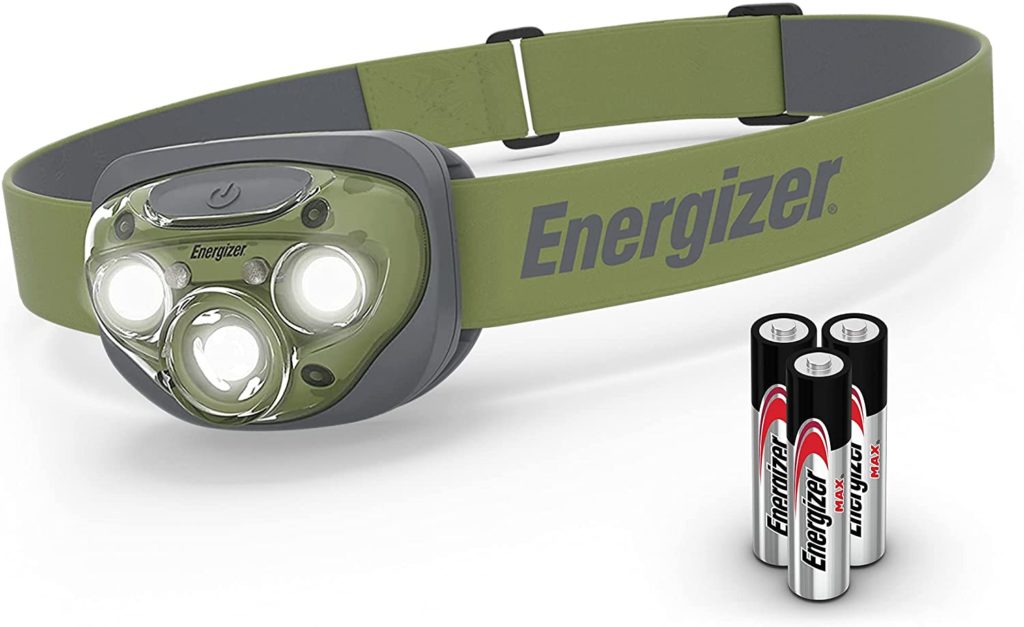 Energizer LED Headlamp
If you're just looking for a basic headlamp with decent brightness at a very affordable price point, look no further than the Energizer LED headlamp. This headlamp includes seven light modes — high, low, spot high, spot low, wide high, and wide low, and red — and produces 260 lumens of brightness on high mode. It's powered by three AA batteries (included) that will run the headlamp for up to 35 hours in low mode.
I personally used one of these for a couple years as my primary headlamp, and now keep one in my pack as a backup in case my primary light dies on me. While I love the convenience and cost savings of a rechargeable light, having a battery powered backup is convenient and will give you piece of mind should your main light fail you deep in the woods after dark.
Brightest Headlamp for Hunting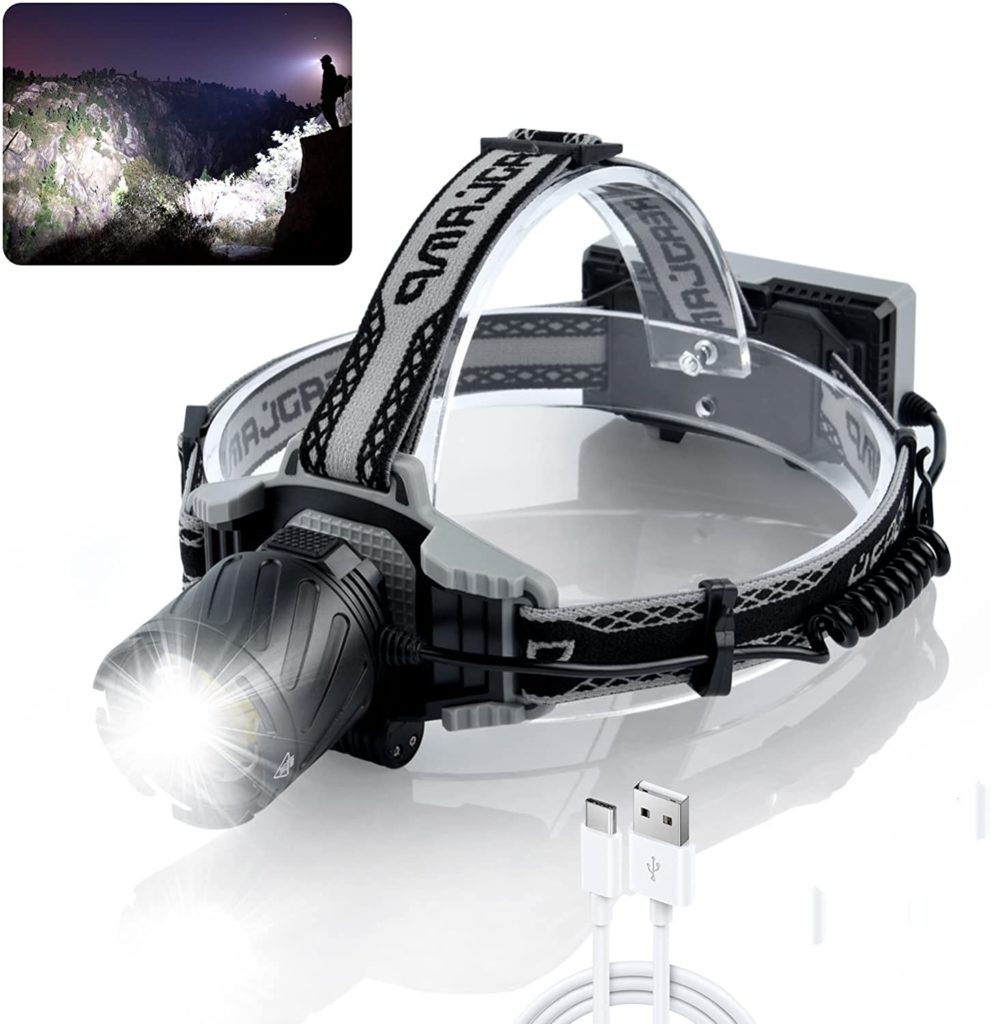 Grentay Rechargeable Headlamp
With claims of producing up to 100,000 lumens and the ability to throw a beam 1,000 meters, the Grentay wins my brightest hunting headlamp category. Now let me be clear. I don't believe for a second that this headlamp is producing 100,000 lumens. I don't even know if that's possible in a portable light. But it definitely seems to be bright and has nearly 1,000 reviews with an average rating of 4.3 out of 5.
The Grentay headlamp uses advanced CREE XHP99 LED beads to provide maximum brightness and battery life, and produces four light modes: high, low, strobe, and SOS. The beam is adjustable from flood to spotlight. Grentay claims 5 to 12 hours of run time on a charge and, while they don't specify, I assume that's on low light mode.
Grentay offers two years of free replacement service and 24/7 customer service.
Best Hunting Headlamp With a Green Light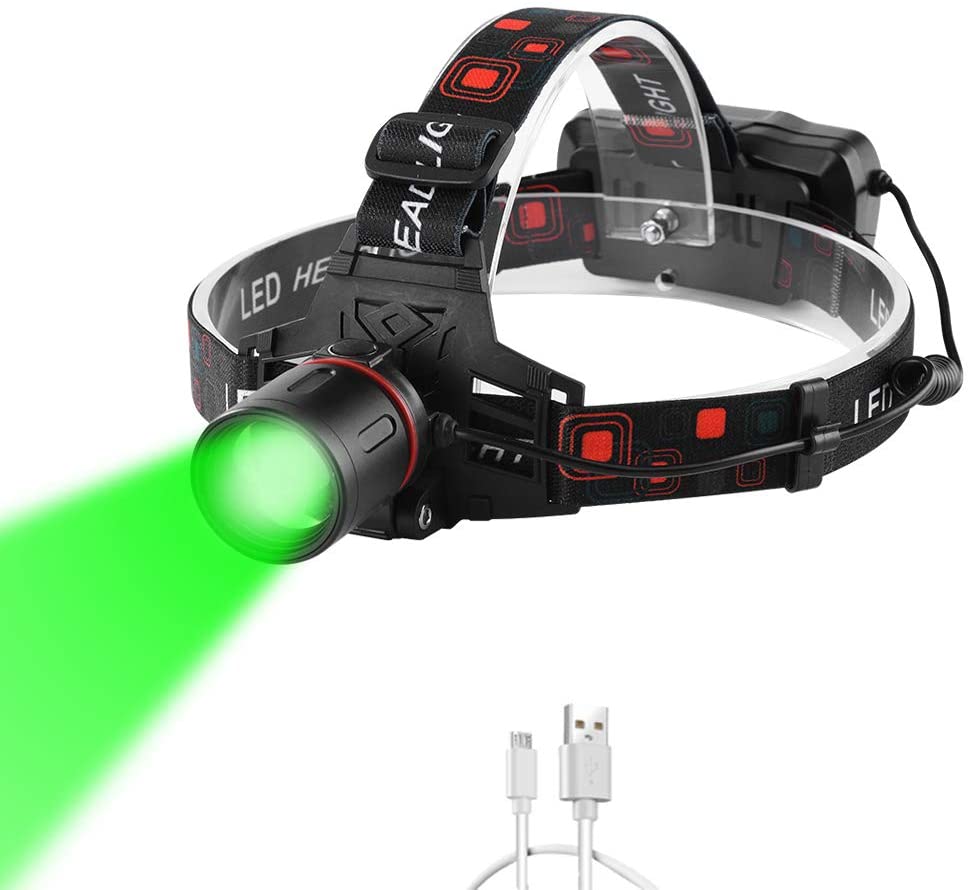 Proforus Green Light Headlamp
A lot of guys have gone to a green light for hunting believing it is less likely to spook deer (more on that below), and when it comes to green light headlamps, you'll be hard pressed to find a better option than the Proforus. This one features powerful XML-T6 green LEDs that put out up to 1,000 lumens of light. The lamp is zoomable, so you can switch between a flood light and a spot light as needed, and has three modes of operation: high, low, and strobe. The headlamp comes with two rechargeable lithium-ion batteries that will power it for five to 10 hours.
Additionally, the Proforus includes an adjustable headband and a waterproof, polycarbonate head that has the ability to swivel 90 degrees.
Don't forget a portable charger!
If you're buying a rechargeable headlamp for this deer season, I would highly encourage you to also buy a portable charger to keep in your pack. Not only can you use it to charge your cell phone as needed, but you can also charge your headlamp if it unexpectedly dies on you in the field. That could save you a long, sketchy walk out of the dark woods one evening!
The good news is there are plenty of very affordable portable charger options out there, so don't let cost discourage you from staying safe. If you're a "trim every ounce I can from my hunting gear" type, don't fret. There are small, lightweight options that shouldn't make a noticeable difference in your overall pack weight.
Like I said, there are plenty of options available, but here is my pick if you want to make it easy on yourself and go with a quality product.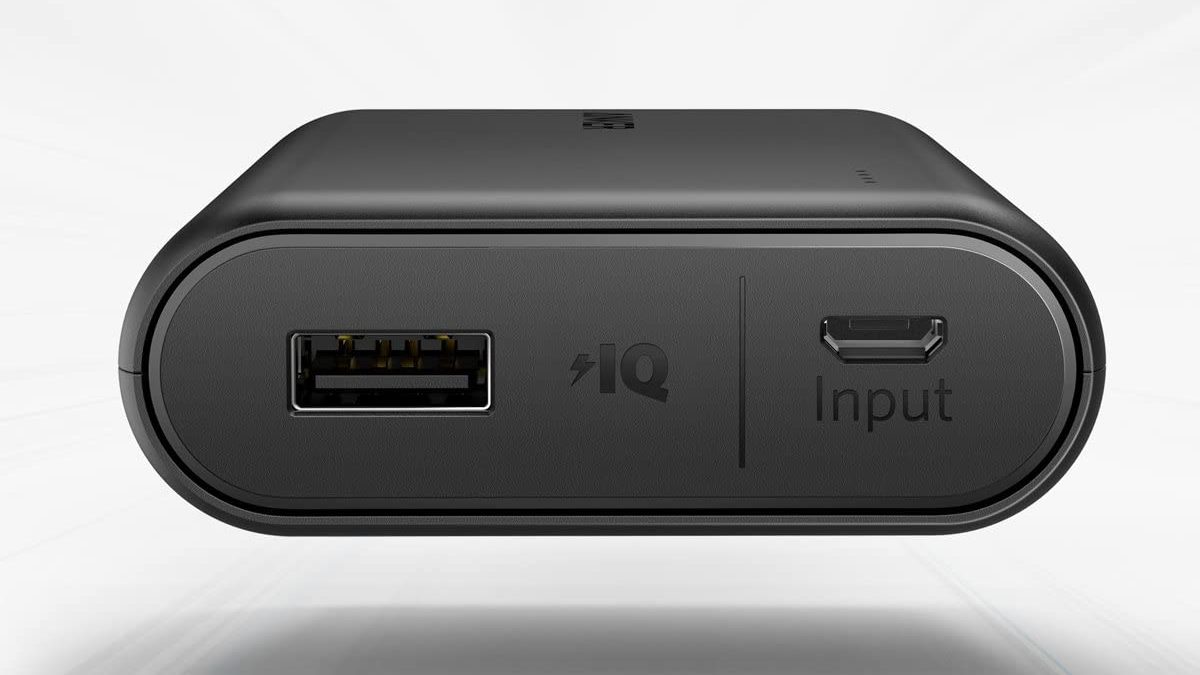 Anker PowerCore 10,000 Portable Charger
Anker is a well know name in the cell phone charging world, and it's easy to see why with this power bank. Charge your phone or headlamp multiple times with this small, lightweight portable charger. The power bank features Anker's exclusive PowerIQ and VoltageBoost technologies which allows you to charge your phone or headlamp quickly and efficiently. And you can buy the Anker with the piece of mind that comes with their worry-free 18-month warranty.
How many lumens do I need for a hunting headlamp?
The brightness of any light source can be measured in lumens. And a lumen is defined as the light output of one burning candle at a distance of one foot. Not real helpful when it comes to choosing a light for hunting! The best analogy I can give to put lumens in perspective is that a 40-watt incandescent bulb puts out about 450 lumens, and a 60-watt bulb puts out around 800 lumens.
If you're like me, that's still not super helpful for choosing how bright my hunting headlamp should be. What I can tell you from experience is anything over 250 lumens is going to be plenty of light to navigate the woods in the dark. In fact, 200 to 500 lumens seems to be the "sweet spot" for a hunting headlamp. A brighter light may come in handy for locating small drops of blood on a blood trail, but otherwise one in that 200-500 lumens range will get the job done.
Keep in mind when comparing the lights featured above that lumen claims are all over the board, and I doubt anyone is really checking to see if the claims are legitimate. I get very skeptical when I see any claim over 1,000 lumens. Headlamps manufactured by American companies are probably much more likely to give you an accurate number than overseas manufacturers who may not be operating under the same strict business laws. So keep that in mind when choosing the right headlamp for your situation. I tend to focus more on what the reviews say than the actual claims by the manufacturer.
Red vs green vs white light for deer hunting?
It's well established that due to the physical structure of their eyes, deer do not see colors in longer wavelengths — reds and oranges — the same way we do. That's why we can wear blaze orange during deer season and not be busted by every deer that comes by. So it would make sense that a red light would be less noticeable to deer than a traditional white light.
On the flip side, deer can see shorter wave lengths including blues and greens. So, while green has become a popular headlamp light color, it may be more visible to deer than a red light, but probably not as noticeable as a white one.
The real question is, is a red or green colored light needed at all? I've had numerous encounters with deer while walking in the dark with a white light headlamp, and it rarely seemed to scare them until I would get close enough for them to hear or smell me. I've also heard countless stories from raccoon hunters of encounters with deer at night while using a white light where the deer watched them walk by unalarmed.
To me that's good news because it's much easier to see where you're going in the woods with a bright white light. That means you can watch your steps more carefully and travel quieter. I also feel safer walking in and out of public land with a white light. Granted, any hunter who may be out there should be able to see a green or red light, too, and shouldn't be shooting in dark conditions to start with, but stranger things have happened.
I say all that to say, when choosing the best headlamps for hunting, pick a light color that allows you to clearly see where you're going, and one that you have confidence in not spooking deer. Ultimately, staying quiet and avoiding your scent from blowing toward the deer is going to be just as important, if not more so, than the color of your light.
Final Thoughts
If you need a new headlamp for hunting this fall, consider one of these five options to fit the bill. Before you pull the trigger, though, take time to consider which features are most important to you, and choose the one that bests suits those needs. Hopefully my research and experience can help guide you in the right direction for a safe and successful hunting season.