2022-2023 Georgia Deer Season Dates
Last Updated on October 25, 2022 by Brian Grossman
Making plans for the Georgia deer season? You've come to the right place! Here are the season dates for archery, primitive weapons and firearms, as well as the either-sex dates (doe days) broke down by county.
The Georgia DNR Wildlife Resources Division sets their hunting regulations in two-year cycles, and the upcoming season will be the second year of the regulations approved back in 2020. Because of that, this year's deer season and bag limits will look identical to last year other than the normal shift in dates so that all openers fall on their respective Saturdays.
There has been talk about extending the season in some Southwest Georgia counties that experience a rut that often extends beyond the early January season end date, but we don't believe that change will take place until the next regulations cycle.
Always remember to consult with the latest official Georgia Hunting Regulations before heading afield. Those can be found at Georgia's Wildlife Resources Division homepage.
Archery, Either Sex
Statewide
September 10, 2022 - January 8, 2023
Extended Archery,
Either Sex (only for Barrow, Bibb, Chatham, Cherokee, Clarke, Clayton, Cobb, Columbia, Decatur, DeKalb, Douglas, Fayette, Forsyth, Fulton, Gwinnett, Hall, Henry, Muscogee, Paulding, Rockdale, and Seminole counties)
September 10, 2022 - January 31, 2023
Primitive Weapons
October 15, 2022 - October 21, 2022
Firearms*
October 22, 2022 - January 8, 2023
The bag limit for Georgia deer is 12 per season, Statewide. No more than 10 may be antlerless and no more than two may be antlered. One of the antlered deer must have at least 4 points, one inch or longer, on one side of the antlers OR a minimum of 15 inches outside antler spread.
Firearms deer hunting is not allowed in Clayton, Cobb, DeKalb, Fulton (north of GA Hwy. 92), and the portion of Glynn County lying within Jekyll Island. In the portion of Forsyth County south of Ga Hwy. 20, only archery, shotguns, and muzzleloaders may be used (no other firearms allowed).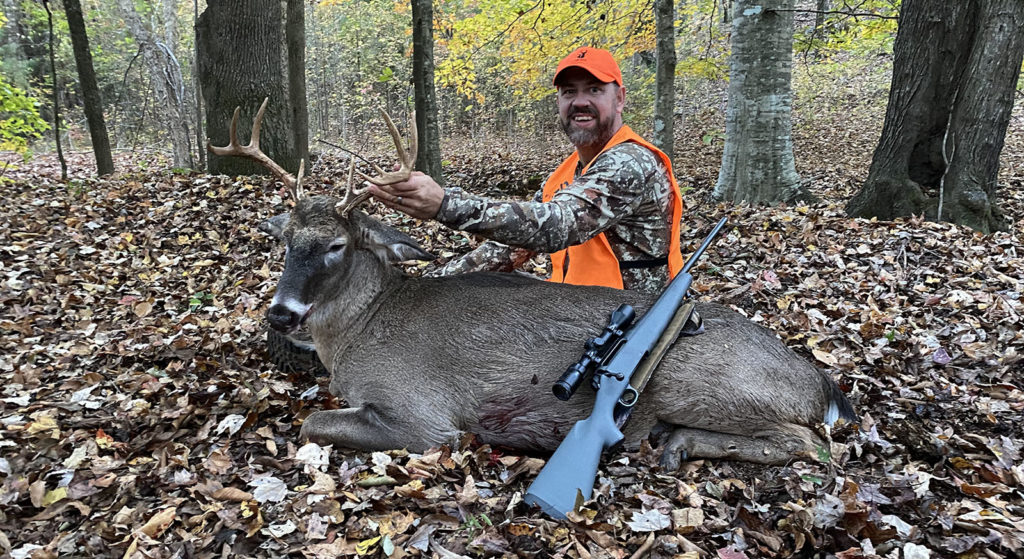 2022-2023 Georgia Doe Days
October 22, 2022 – January 8, 2023
Baker, Ben Hill, Bibb, Bleckley, Brooks, Burke, Calhoun, Candler, Chatham, Chattahoochee, Clarke, Clay, Colquitt, Columbia, Crisp, Decatur, Dodge, Dooly, Douglas, Dougherty, Early, Emanuel, Fayette, Forsyth, Fulton (South of Hwy. 92), Glascock, Grady, Gwinnett, Hall, Hancock, Harris, Henry, Houston, Irwin, Jefferson, Jenkins, Johnson, Laurens, Lee, Macon, Marion, Meriwether, Miller, Mitchell, Montgomery, Muscogee, Peach, Pulaski, Quitman, Randolph, Richmond, Rockdale, Schley, Seminole, Stewart, Sumter, Talbot, Taylor, Telfair, Terrell, Thomas, Tift, Treutlen, Troup, Turner, Twiggs, Washington, Webster, Wheeler, Wilcox, Wilkinson, and Worth. (In that portion of Forsyth lying south of GA Hwy 20, only shotguns and muzzleloaders may be used)
Oct. 24, 2022 – Jan. 8, 2023
Appling, Atkinson, Bacon, Berrien, Brantley, Bryan, Bulloch, Camden, Charlton, Clinch, Coffee, Cook, Echols, Effingham, Evans, Glynn (except that portion lying within Jekyll Island), Jeff Davis, Lanier, Liberty, Long, Lowndes, McIntosh, Pierce, Screven, Tattnall, Toombs, Ware, and Wayne.
Nov. 5, 2022 – Jan. 8, 2023
Baldwin, Banks, Barrow, Bartow, Butts, Catoosa, Carroll, Chattooga, Cherokee, Coweta, Crawford, Dade, Elbert, Floyd, Franklin, Gordon, Green, Jackson, Jasper, Jones, Haralson, Hart, Heard, Lamar, Lincoln, Madison, McDuffie, Monroe, Morgan, Newton, Oconee, Oglethorpe, Paulding, Pike, Polk, Putnam, Spalding, Taliaferro, Upson, Walker, Walton, Warren, and Wilkes.
Nov. 21 – 27, 2022 and Jan. 1, 2023
Dawson, Gilmer, Habersham, Lumpkin, Murray, Pickens, Stephens, White, and Whitfield.
Nov. 26 – 27, 2022 and Jan. 1, 2023
Fannin, Rabun, Towns, and Union.
What are your thoughts on this year's Georgia deer season dates? We'd love to hear your opinion over in our Georgia Deer Hunting (family friendly) Facebook group.
Still Have Questions?
If you still have questions regarding Georgia deer hunting, be sure to check out our Georgia Deer Hunting FAQs!