Last Updated on August 9, 2022 by Brian Grossman
Choosing the best crossbow broadheads can be a daunting task. There are tons of options in a wide variety of shapes and sizes, and nearly as many different opinions about which ones you should shoot. 
My hope is that this article will help you pick the best crossbow broadhead for the upcoming deer season by narrowing down the choices to 10 of the best fixed blade, mechanical and hybrid broadheads available and providing in-depth information on each. In the end, which you choose will depend on your personal preferences, which perform best in your crossbow, and what you feel most confident shooting.
RELATED: Best Fixed Blade Broadheads for Deer
If you can afford to do so, I would encourage you to try a few of these broadheads to see which ones perform best from your crossbow. If you don't want to the expense of purchasing multiple brands of broadheads, get a few hunting buddies to go in and each of you buy a different brand to test. Once you've tried them all out, then you can each decide which one you like best.
With that, let's dive straight into my top crossbow broadhead picks, since that's what you're really here for. However, I would encourage you to continue reading beyond just the broadhead choices to learn about some of the features to consider when choosing the right broadhead, as well as some frequently asked questions you may have.
Need a great target for practicing your shooting? Try this one on the 7 Best Crossbow Targets.
Best Fixed Blade Broadheads
QUICK LOOK
Type: Fixed Blade
Weight: 125 grain
Number of Blades: 3
Cutting Diameter: 1 1/4
Material: SST Steel
Amazon Rating: 4.7 out of 5
The unique design of the QAD Exodus puts most of the three 0.040-inch thick blades over the arrow shaft, giving it a super compact profile that flies like a field point, even with a larger 1 1/4 cutting diameter.
The steep cutting angle and hardened SST tip provide devastating penetration and consistent pass-throughs. And like the Excalibur and Muzzy, the blades are the QAD Exodus are replaceable so you can keep them razor sharp at all times.
---
Excalibur Boltcutter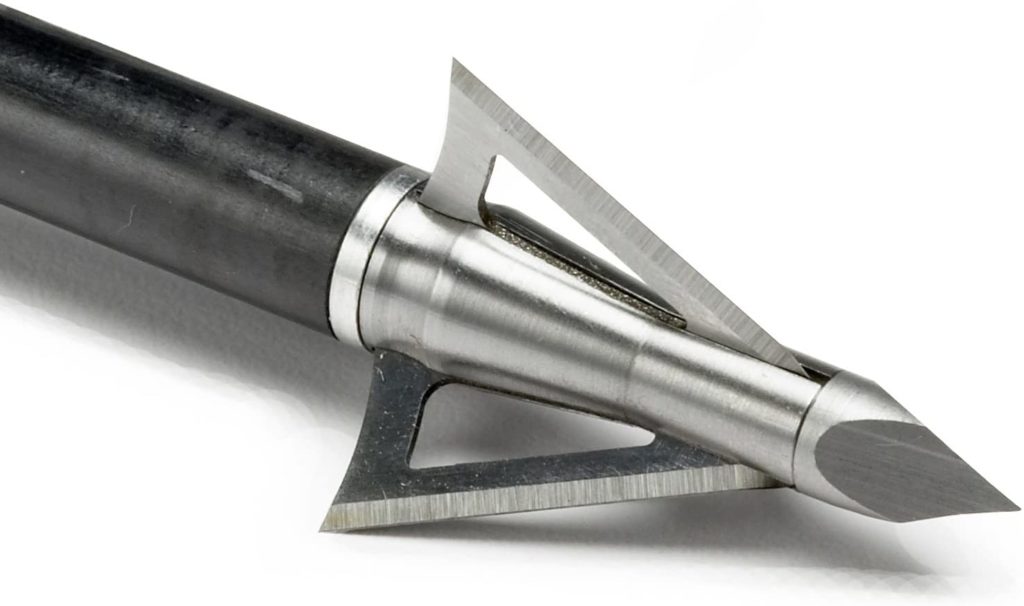 QUICK LOOK
Type: Fixed Blade
Weight: 150 grains
Number of Blades: 3
Cutting Diameter: 1 1/16 inch
Material: High strength stainless steel blades and tip
Amazon Rating: 4.8 out of 5
You undoubtedly know the Excalibur name for their line of quality crossbows, but they also have their own broadheads as well. The Boltcutter is a beefy, fixed blade broadhead made for durability and accuracy. The head features a large stainless steel ferrule and three vented stainless steel blades packing a 1 1/16-inch cutting diameter. 
The Boltcutter weighs in at 150 grains, making it the heaviest broadhead on my list, and perfect for the crossbow hunter looking for a heavy arrow setup with high FOC. The convenient Center Locking System (CLS) allows blade replacement without removing the broadhead from the crossbow bolt.
---
G5 Montec M3 100 Grain Crossbow Broadhead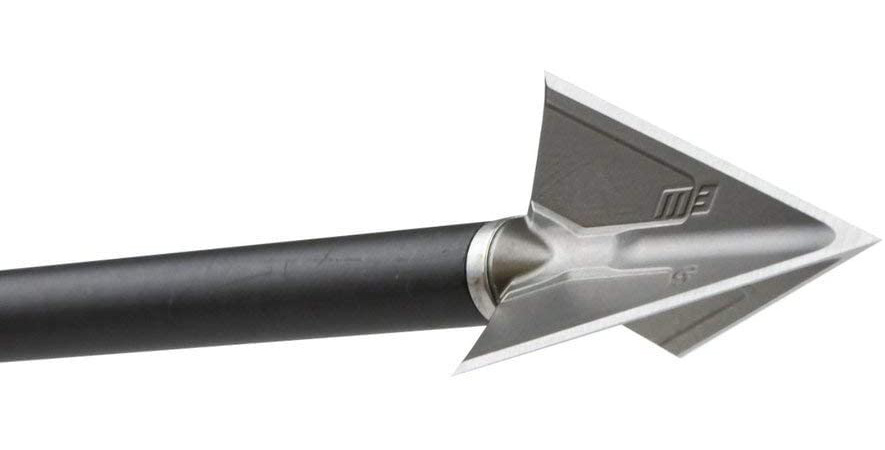 QUICK LOOK
Type: Fixed Blade
Weight: 100 grain
Number of Blades: 3
Cutting Diameter: 1 1/16 inch
Material: 420 stainless steel
Amazon Rating: 4.8 out of 5
The G5 Montec M3 is a one-piece, fixed blade, cut-on-contact broadhead made of 420 stainless steel. The solid, non-vented design reduces noise in flight and increases strength and durability. 
These American-made broadheads are razor sharp and 100% spin tested for accuracy. If you want a solid, fixed blade broadhead for your crossbow in 100 grain weight, then the G5 Montec M3 may be the perfect broadhead for your next deer season.
---
Muzzy Trocar Crossbow Archery Arrow Broadhead 100 or 125 Grain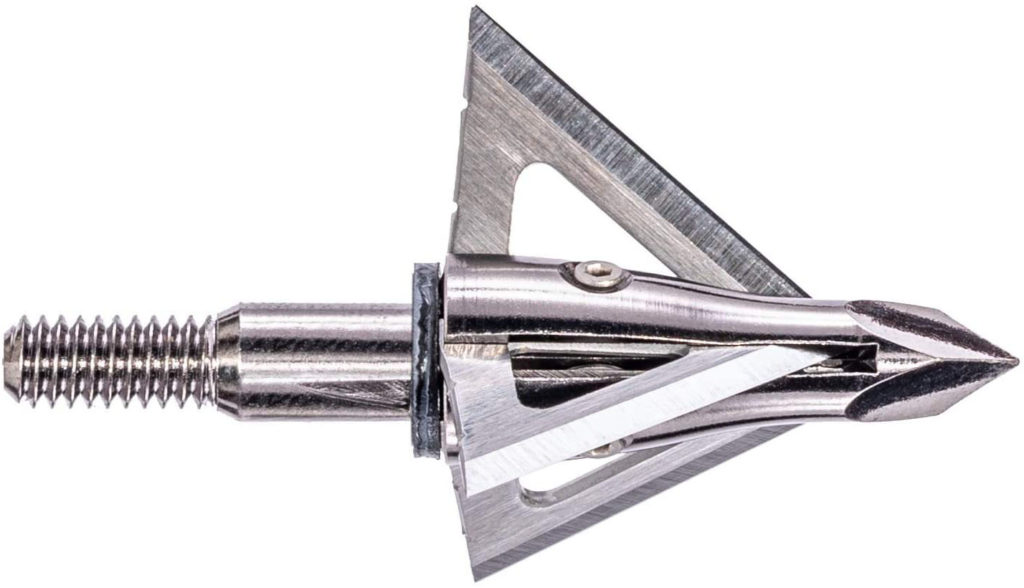 QUICK LOOK
Type: Fixed Blade
Weight: 100 or 125 grain
Number of Blades: 3
Cutting Diameter: 1 3/16 inch
Material: Steel
Amazon Rating: 4.7 out of 5
The Muzzy Trocar is a fixed blade broadhead that features a strong stainless steel ferrule and three vented, .035-inch blades proving a total cutting diameter of 1 3/16 inches.  The compact design, heavy trocar tip, and right-offset blades give the broadhead field-tip accuracy and bone-breaking penetration. 
---
Best Mechanical Broadheads
Editor's Choice* RAGE Crossbow X, 2-Blade Broadhead
QUICK LOOK
Type: Mechanical
Weight: 100 or 125 grain
Number of Blades: 2
Cutting Diameter: 2 inch
Material: Tempered aluminum ferrule with stainless steel blades
Amazon Rating: 4.7 out of 5
Nobody sells more mechanical broadheads annually than Rage. Rage has a wide variety of broadhead options, including some specifically designed for crossbows. The Rage Crossbow X  is the most popular of those. The Crossbow X is a 2-blade broadhead with a cut-on-contact tip, available in both 100 or 125 grain weights. The ferrule is constructed of aluminum with .035-inch stainless steel blades that are held in place by Rage's shock collar retention system and deployed by their patented Slipcam technology. Best of all, Rage broadheads are manufactured in the U.S.
---
Swhacker SWH00219 100 Grain 1.75″ 2 Blade Crossbow Broadhead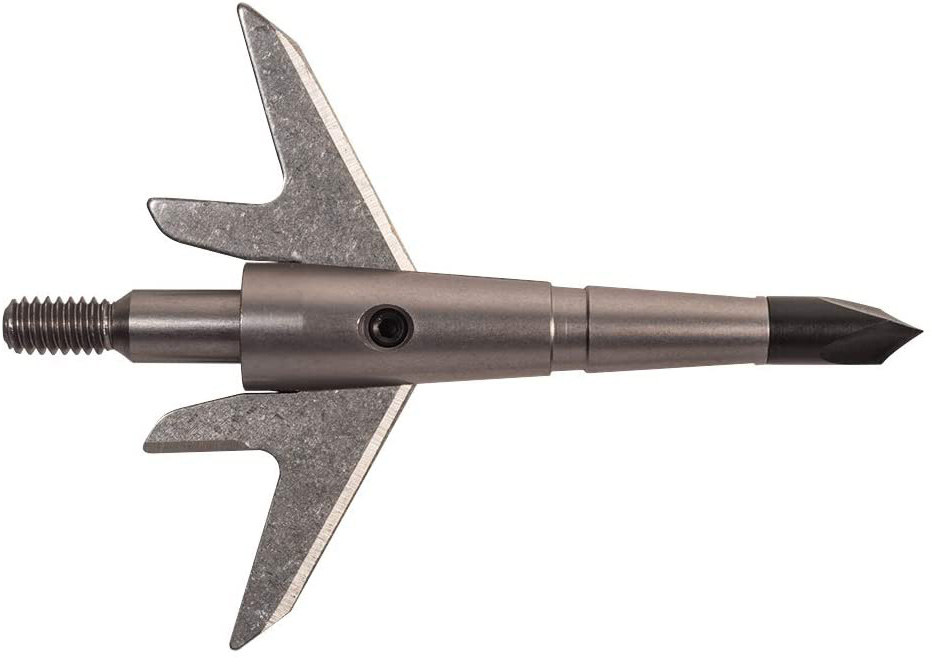 QUICK LOOK
Type: Mechanical
Weight: 100 grain
Number of Blades: 2
Cutting Diameter: 1 3/4 inch
Material: Aircraft aluminum ferrule with stainless steel blades
Amazon Rating: 4.8 out of 5
I'll be the first to admit that I'm not a big fan of front deploying broadheads, but there are a lot of die-hard Swhacker users out there, and they have excellent reviews on Amazon. Swhackers feature two separate cutting edges. The wing blades take most of the punishment cutting through the hair and hide, deploying the .032-inch main blades in the body cavity to cut through internal organs. The three pack of Swhacker broadheads comes with extra bands and a practice head. 
---
G5 Outdoors Deadmeat 100% Steel Expandable Crossbow Broadhead
QUICK LOOK
Type: Mechanical
Weight: 100 of 125 grain
Number of Blades: 3
Cutting Diameter: 1 1/2 inch
Material: All steel
Amazon Rating: 4.6 out of 5
If I was going back to mechanicals this season, I would likely go with the G5 Deadmeat. Their compact design makes them fly like field points, and their all-steel construction keeps them intact. The Snaplock blade retention design can be a little finicky, but when used properly keeps the blades securely locked in place until impact. The G5 Deadmeat also comes with a Ballistic Match Point practice tip that flies just like the actual broadheads.
---
Grim Reaper Pro Series Crossbow 100 Grain Broadhead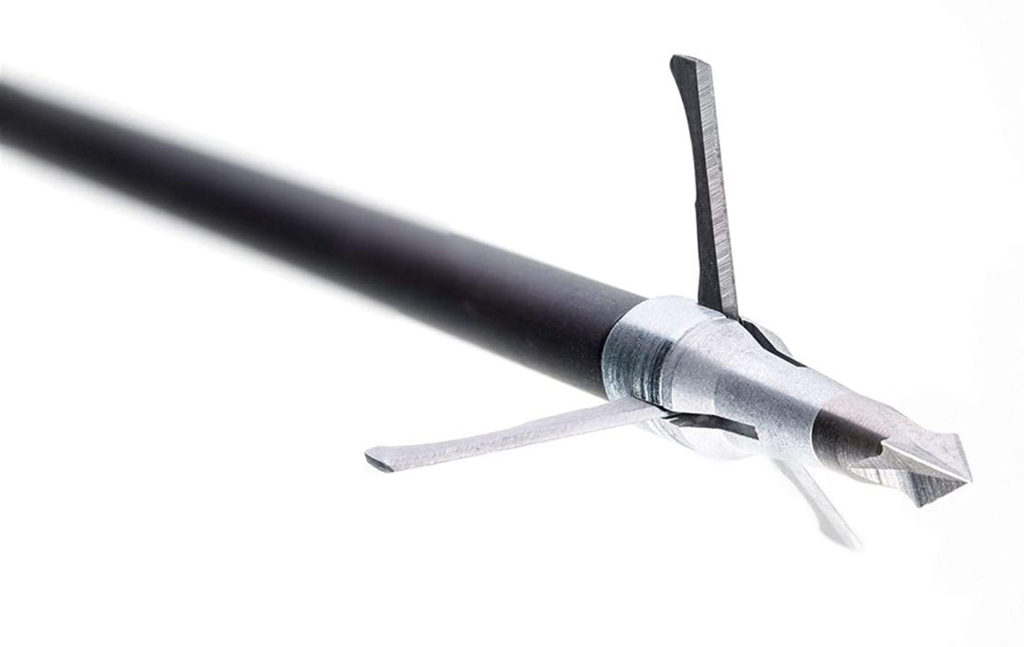 QUICK LOOK
Type: Mechanical
Weight: 100 grain
Number of Blades: 3
Cutting Diameter: 1 1/2 inch
Material: Unknown
Amazon Rating: 4.9 out of 5 (based on a small number of reviews)
Designed for specifically for high speed crossbows, the Grim Reaper Pro Series crossbow head is tested field point accurate at speeds over 400FPS out to 100 yards. The heads feature three blades that deploy from the front, similar to the Swhacker, with a 1 1/2 inch cutting diameter. I couldn't find any information on what material the ferrule and blades are made from, but I have to assume the blades are stainless steel. Unlike the other broadheads featured here, Grim Reaper Pro Series broadheads come in a pack of four rather than three.
---
Best Hybrid Broadheads
Muzzy Trocar HBX Crossbow Archery Arrow Hybrid Broadhead
QUICK LOOK
Type: Hybrid fixed blade and mechanical
Weight: 100 or 125 grain
Number of Blades: 4 (2 fixed blade and 2 mechanical)
Cutting Diameter: 1 5/8 inch maximum
Material: Solid steel
Amazon Rating: 4.7 out of 5
Get the best of both worlds – fixed blade and mechanical — with a unique hybrid broadhead design. The Muzzy Trocar HBX Crossbow broadhead features several of the same great characteristics of the Muzzy tip we discussed above, except with a unique hybrid design with both fixed and expandable blades. The head includes two offset fixed blades with a 1-inch cutting diameter and two expandable blades with a 1 5/8-inch cutting diameter. Both are .035 inch thickness. 
---
BLOODSPORT Cut On Contact Grave Digger Broadhead
QUICK LOOK
Type: Hybrid fixed blade and mechanical
Weight: 125 grain
Number of Blades: 4 (2 fixed blade and 2 mechanical)
Cutting Diameter: 1 3/4 inch maximum
Material: Aircraft aluminum ferrule with 416 stainless steel blades
Amazon Rating: 4.5 out of 5
The Bloodsport Cut-on-Contact Grave Digger broadhead is unique in that you can lock down the mechanical arms and shoot the broadhead as a fixed blade head with a 1-inch main cutting diameter and 1/2-inch bleeder veins. Or, if you prefer, you can loosen the set screw and shoot it as a true hybrid with the 1-inch main cutting diameter and 1 3/4-inch cutting diameter expandable blades. A patented blade retention system keeps the blades closed until entry without the need for rubber bands or O-rings that may fail.
---
Broadhead Features to Consider
Fixed Blade or Mechanical
The debate over whether fixed blade or mechanical broadheads are better is as old as mechanical broadheads themselves. I'm not here to sway you one way or the other when it comes to choosing the best crossbow broadhead for your use. I've used both and killed deer with both. I'm currently shooting a fixed blade broadhead that I'm very happy with, but that doesn't mean next season won't find my Black Eagle arrows tipped with the latest, greatest mechanical broadhead. If you're undecided on which you want to shoot this year, I will offer some thoughts to help you make the best decision for your needs.
Personally, I lean toward using fixed blade heads for a few reasons. First and foremost, since they lack any mechanical features, there is a much less likelihood of broadhead failure in any way. You never have to worry about whether the blades deploy upon impact or if the blades deployed early. Secondly, I like the immediate cutting action on contact that maximizes the momentum of the arrow. Again, since no blades are having to move during deployment, there is less energy lost by the arrow upon impact. This improves your odds of a pass-thru shot even if the shot fails to hit the intended mark. 
Having said that, fixed blade broadheads face at least one issue that most mechanicals don't: they don't always fly true from a particular bow or crossbow, and those issues can really be compounded with today's fast-shooting equipment. Mechanical broadheads often feature larger cutting diameters than their fixed blade counterparts, which can create more damage and much more obvious blood trails. On the flip side, though, that larger cutting diameter requires more momentum to push all the way through the animal, reducing the chance of a pass-thru shot. 
If you do choose to go with a mechanical broadhead, be aware that they come in both rear deploying and forward deploying models. Rage and G5 both produce popular rear deploying broadheads where the blades are pushed straight back and deployed upon impact. On front deploying broadheads like the Swhacker, the blades actually pivot from the back of the broadhead and have to rotate over the pivot point as they get pushed back from the front. In my mind, this requires a lot more energy than a rear deploying configuration. There is also concern with the broadheads deflecting on sharp quartering shots. If I'm going to use a mechanical broadhead, it's going to be a rear deploying model for those reasons. 
So as you can see, there's no clear "best" option here. Each has its pros and cons. My advice is to shoot a cut-on-contact fixed blade broadhead if you can get them to fly true and group well from your crossbow. If not, then a good mechanical, rear deploying broadhead with a moderate (2 inch or below) cutting diameter should do the trick. 
Broadhead Weight
Most crossbow broadheads are going to come in either 100, 125 or 150 grains, with 100 grains being the most common. Any of these will work effectively. It's really a matter of your overall arrow or bolt setup as to which weight you choose. If you're just going with a standard mid-weight bolt setup, then I'd recommend sticking with a 100 grain broadhead because they are readily available and will get the job done. However, if you're like me and prefer a heavier arrow/bolt setup with a little higher FOC, then a 125 or even a 150 grain may be your best bet.
The past two seasons I've shot 150 grain broadheads on my compound bow setup, and I've been extremely happy with the results. This year I may go with the 125 grain Slick Trick Magnum, which should still work fine. I can always add another 25 grain weight to my insert if I wanted to keep the overall weight the same, but I really don't think that will be necessary.
FAQs
Are crossbow broadheads different than compound bow broadheads?
Yes and no. The truth is, most broadheads will work just fine shooting from a crossbow, and most crossbow broadheads will work just fine with a compound bow. However, broadheads sold specifically for crossbows are often a little beefier, and, if they are mechanical broadheads, they have stronger keepers on the blades to keep them from deploying prematurely due to the harder launch and faster speeds a crossbow produces.
This will rarely be an issue unless you are shooting one of the more expensive 400+ FPS crossbows like the Raven, the Mission or Ten Point. Even then, a standard broadhead may still work perfectly fine, but by sticking with one designed specifically for use in a 400+ FPS crossbow, you may avoid potential flight issues.
What's the best crossbow broadhead?
While, I don't believe in absolute bests when it comes to hunting products, my choice is the QAD Exodus in 100 grain. I love the fact that these American made broadheads have a low-profile design that allow them to fly like your field points, with three razor-sharp blades providing a 1 1/4-inch cutting diameter for maximum damage.
If you can't get the QAD Exodus broadheads to fly true from your crossbow, then my next choice would be the Rage Crossbow X.
Can I sharpen crossbow broadheads?
Absolutely! You can sharpen just about any broadhead blade. If you're shooting one with replaceable blades, the question will be, is it worthwhile to sharpen the blades rather than just replacing them? Probably not in most cases, but you certainly have that option. You should check the sharpness of your crossbow broadheads often, and sharpen as needed. 
There are lots of options for sharpening your broadheads, from commercial sharpeners designed specifically for broadhead blades to a standard wet stone used for sharpening knife blades. We have a full article on this website about how to sharpen broadhead blades, so check it out if you'd like to learn more about that process.
Can I reuse crossbow broadheads?
Again, absolutely you can reuse your crossbow broadheads. As mentioned above, you'll want to check the blades for any bends, knicks or other damage after any use. If the blades are bent, you'll be better off replacing the blades if they're replaceable, or just scrapping the head altogether and using a new one. Small knicks or just general dullness can be taken care of by sharpening the broadhead blades as discussed above. 
Summary
Broadhead selection is a somewhat complex and personal decision. If you're like me, you probably like trying different things, which is why you're here checking out new options rather than using what you used last season. Or maybe you're new to crossbow hunting altogether. Either way, I hope this information helps you choose the best crossbow broadheads for you specific needs, and that you have your best deer season yet. Shoot straight!