Campark T180 Trail Cam Review [2022]
Last Updated on August 31, 2022 by Brian Grossman
The Campark T180 is a compact trail camera with a built-in solar panel packed with a lot of great features. While you may not be familiar with the name Campark, don't let they turn you off to an otherwise great product. Campark has been around since 2008 and manufactures a variety of cameras, including trail cameras, action cameras, dash cameras, and security cameras. In fact, I recently did a review on the Campark 4K Action Camera. 
For full disclosure, Campark sent me a T180 free of charge in exchange for this review. They did not ask or require me to give it a favorable review; if they had, I would not have agreed.
Key Features
Built-in solar panel and rechargeable lithium batteries

Takes 36MP images and up to 4K video

Bluetooth and WiFi connectivity to adjust camera settings and view photos/videos

0.1 second trigger speed and 0.5 second recovery time
The first thing you notice about the small Campark T180 trail camera is the unique solar panel built into the top of the camera housing. The panel keeps the internal 4400mAh lithium battery charged so you don't have to spend a fortune in batteries to keep the camera going throughout the year. The T180 does take four alkaline AA batteries that act as backups if the solar panel fails to fully charge the internal battery.
I'm just over a month into testing at this point, but so far the AA batteries in mine are still at 100%.
Campark T180 Photo & Video Quality
To get into some of the specs of the T180, it has a 120-degree wide angle lens that captures large 36MP photos, as well as 4k and 2K video. I was pleasantly surprised at the quality of both the photos and videos that I captured with the T180. They were as good, if not better, than what I've come to expect from my name-brand cameras in the same price range. I've put some samples in below for reference.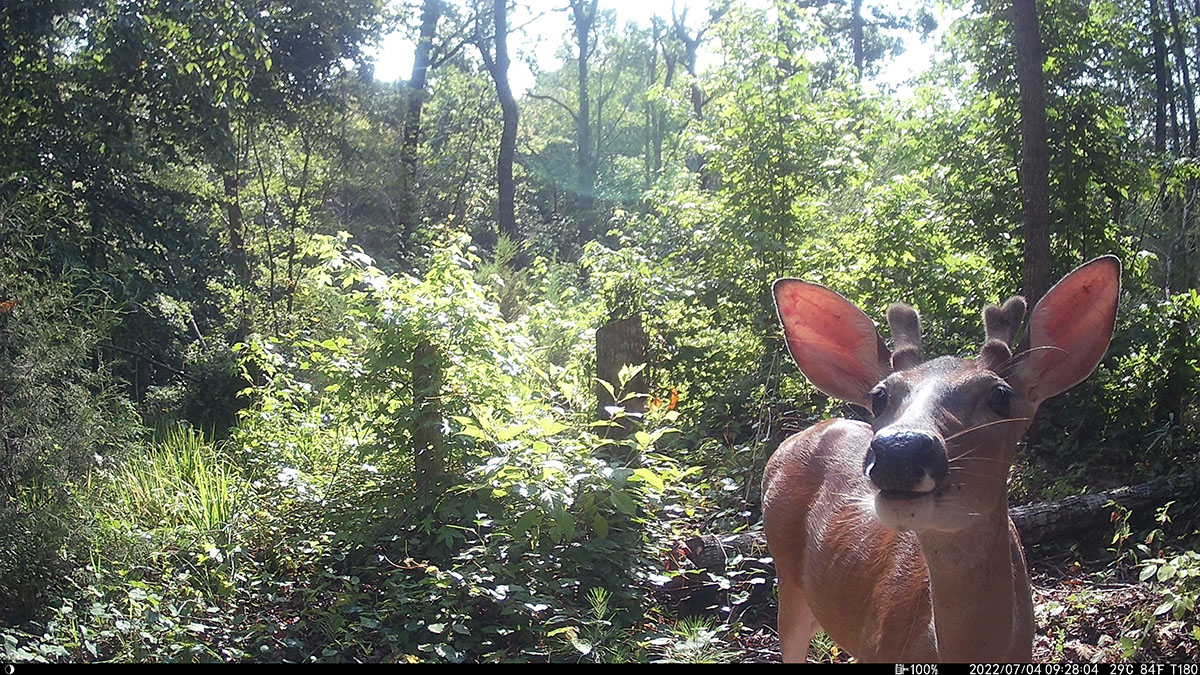 Thanks to 36 infrared LEDs, the Campark T180's nightime photos and videos were good quality as well. The flash does a great job of illuminating anything that triggers the camera's sensors out to 65 feet.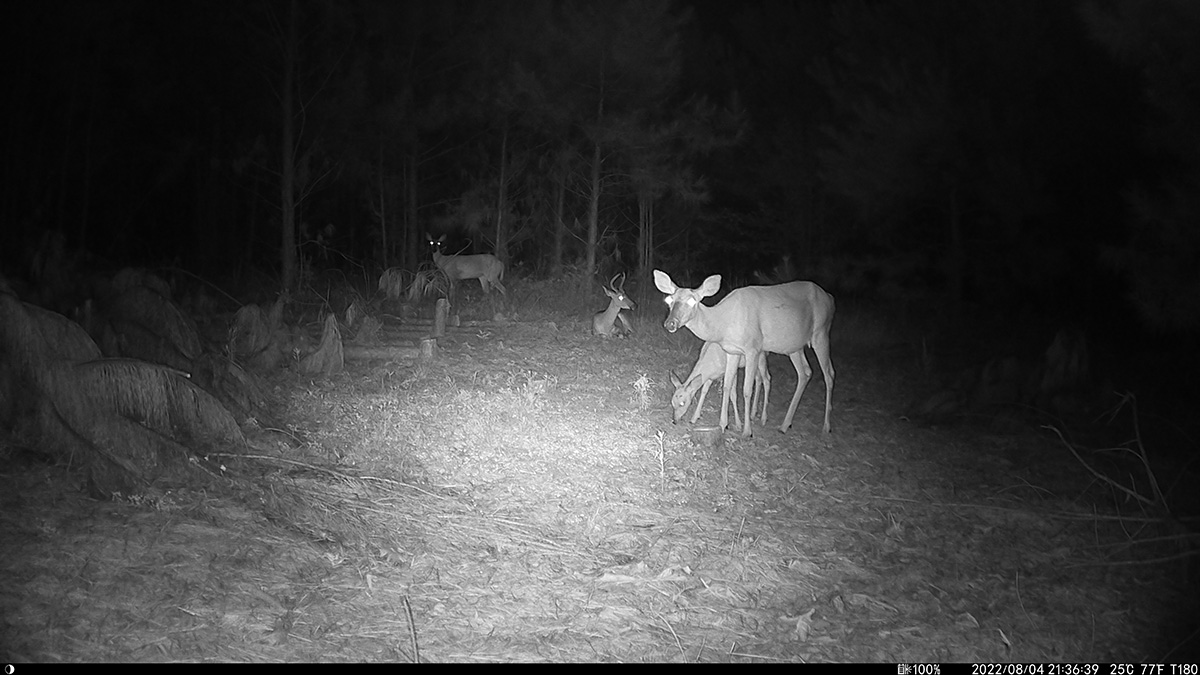 Campark T180 Sensors
The Campark T180 includes three sensors covering a 120-degree field of view. Campark claims a 0.1 second trigger speed with a 0.5 second recovery time, which is extremely impressive. I can't verify that speed, but it seems to do a good job of capturing things quickly when they move into the sensor range of the camera.
I did some testing walking into the sensor range perpendicular to the camera, and it would always capture a photo of me well before I reached the middle of the frame. Interestingly, the T180 allows you to disable the two 30-degree side sensors if you prefer so that only the center 60-degree sensor will trip the camera to take a photo or video. You can also adjust the sensitivity from high to medium to low if you're getting too many false-positive triggers.
The only issue I had with things getting out of frame is when I ran the camera on dual photo/video mode. In this mode, it takes the photo first, then follows up with a video. When I set the camera up on my driveway to test it for surveillance purposes, it did a great job with the photos, but by the time to video started recording, the vehicle was often either past the camera (when driving towards it) or too far away to get the license plate (when driving away from it). This isn't a big issue, and I later realized my Moultries operate the same exact way. The take-home from that experiment is to either run them on photo OR video, but not both, unless you have it on a food source where the deer or other wildlife are likely to stay in one place for a while.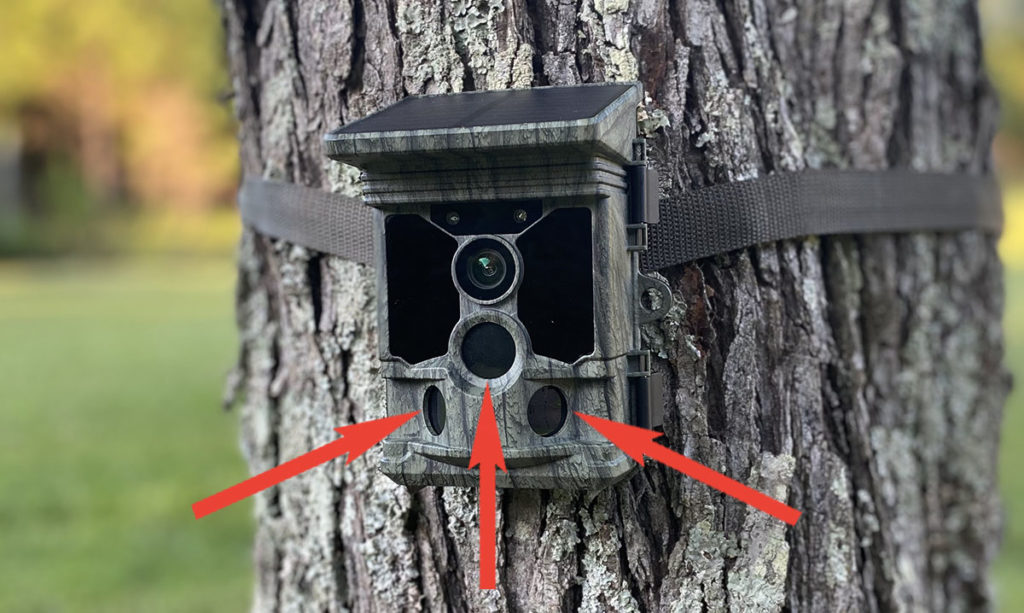 Bluetooth/Wifi Connection
One of the coolest features of the T180, aside from the built-in solar panel, is the ability to connect to the camera with your cell phone through Bluetooth and wifi. To be clear, this IS NOT a cellular trail camera. You have to get within bluetooth range of the camera to connect. But what this does allow you to do is use your cell phone to make changes to your camera's settings as well as to look through any captured photos and videos. So no more need to open your camera, turn it off and pull the card to check on things. This means no more worrying about whether or not you put the card back in the camera and turned it back on when you left! We've all been there!
It's a bit of a process to connect your phone to the camera. You have to first connect to the camera via Bluetooth via Campark's Game Camera app, then prompt the camera to turn on its wifi, connect to the camera's wifi, then you can start changing settings and viewing photos/video. I assume that's because having the Bluetooth on 24/7 uses fewer resources than having wifi running 24/7, but I don't know that for a fact. Either way, once you learn the process, it goes pretty quick and still beats having to pull a card in the field.
The one issue I have with the Campark T180 is the use of a micro-SD card rather than a standard SD card. I'm not sure what the reasoning was behind that decision, but it does create an inconvenience when you're running multiple cameras and swapping out cards regularly. Certainly not a deal-breaker, but I would encourage Campark to update that feature in the next round of trail cameras.
Campark T180 Trail Cam Pros and Cons
Pros
Built-in solar panel for reduced battery usage
Bluetooth/Wifi connection to change camera settings and view photos/videos
Takes great photos and 4K videos
Fast PIR sensor trigger speed and recovery time
Compact, so it's easy to conceal
Cons
Uses microSD card
Requires multiple steps to connect to the camera with WiFi
Relatively expensive for a non-cellular trail camera
Summary
The Campark T180 appears to be a great little trail camera for monitoring deer and other wildlife as well as for security purposes. The solar panel helps reduce battery usage, and the excellent trigger speed and image quality put it on par with most any camera on the market. The price is a little steep for a non-cellular trail camera, but it would certainly be worth it if you can't use a cellular camera where you hunt or if you don't want to fork out the monthly fee for a cellular plan.