TideWe Hunting Rangefinder Full Review
Last Updated on September 11, 2022 by Brian Grossman
When you draw your bow on a big whitetail buck, or steady your scope on that bugling 5×5 bull elk, it's critical to know the exact distance to the animal to ensure a clean, humane kill shot. Fortunately, the days of having to rely on your best guesstimate are mostly over thanks to the availability of precise and affordable rangefinders. And if you're looking for one that is lightweight, compact, accurate and won't break the bank, then the TideWe Hunting Rangefinder may be a great option.
UPDATE: TideWe reached out and provided a promo code for anyone who buys the 700 or 1000-yard rangefinder directly from their website. Just use the code RF20 to get 20% off.
Lightweight and compact
700 yard / 1,000 yard options
Crystal clear 6X viewfinder
Rechargeable (cable included)
Comes with camo carrying case
TideWe Hunting Rangefinder Features
Design and Appearance
The first thing I noticed when I unboxed the TideWe rangefinder was that it was very compact and lightweight. At just 0.35 pounds and 4.12" x 2.61" x 1.50" in size, it's noticeably smaller and lighter than my old rangefinder. While it comes with its own carrying case, it's the perfect size to tuck into one of the gear bags on the side of my hunting saddle, which is likely where it will reside throughout deer season.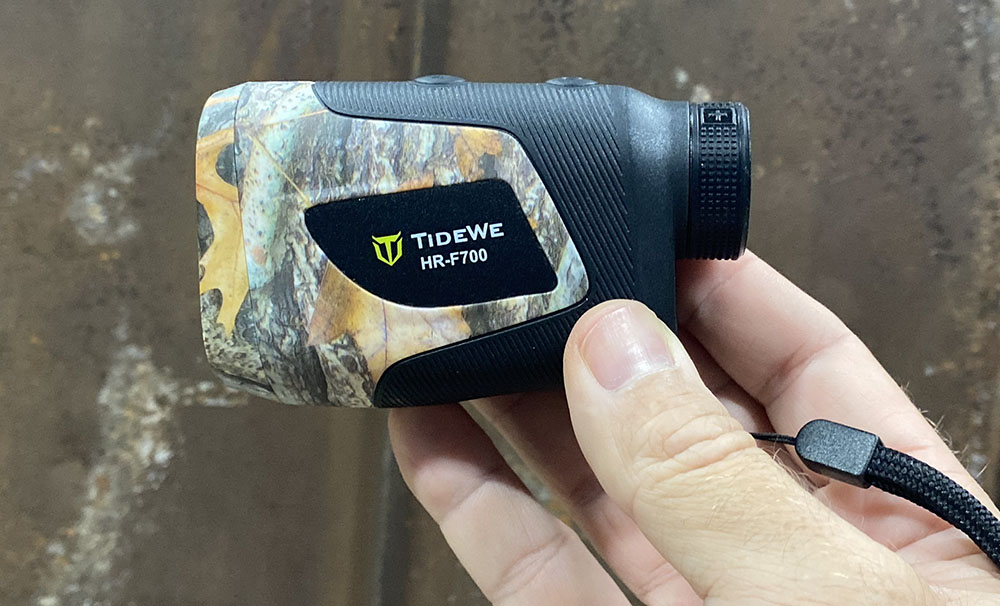 The camo finish is nice on the TideWe rangefinder, and the anti-slip rubber material on the back half makes it easy to grip and control. The entire thing is weather resistant, so it's capable of enduring the harshest hunting conditions. It's also worth noting that the TideWe rangefinder includes a lanyard, which makes it easy to hang on your bow holder or accessory hook for easy access while hunting.
TideWe Rangefinder Display
With a slight turn of the eye cup, the view through the TideWe Hunting Rangefinder became crystal clear. I love the 6X magnification for taking those longer ranges or being able to pinpoint your target through branches or leaves. When using the rangefinder, the display is easy to read and understand.
The one con in this area is the lack of an illuminated display, but you can't expect all the bells and whistles on a budget rangefinder. TideWe does offer an illuminated display in their more expensive rangefinder with red and green OLED display. I really don't see this being too much of an issue. My previous rangefinder did not have an illuminated display, and I never ran into a situation where I wasn't able to read a range on a deer due to low light.
TideWe Rangefinder Function
TideWe claims their hunting rangefinder is accurate to +/- 1 yard, and I have no reason to doubt that. I did my own little test in my front yard by measuring off exactly 30 yards from my 3D bear target with a 100-foot tape measure. The TideWe rangefinder ranged it dead on at 30 yards. My old rangefinder was about 1/2 yard off, reading it at 30.5 yards.
Now I realize that just because it's dead on at 30 yards doesn't mean it will be dead on at 700 yards, but I'm going to give TideWe the benefit of the doubt. I have no way to test that distance, and I'll primarily be using it for bowhunting. I did range some trees out to 200+ yards, and my old rangefinder consistently gave measurements about 2% higher than the TideWe, so it seemed to be consistent.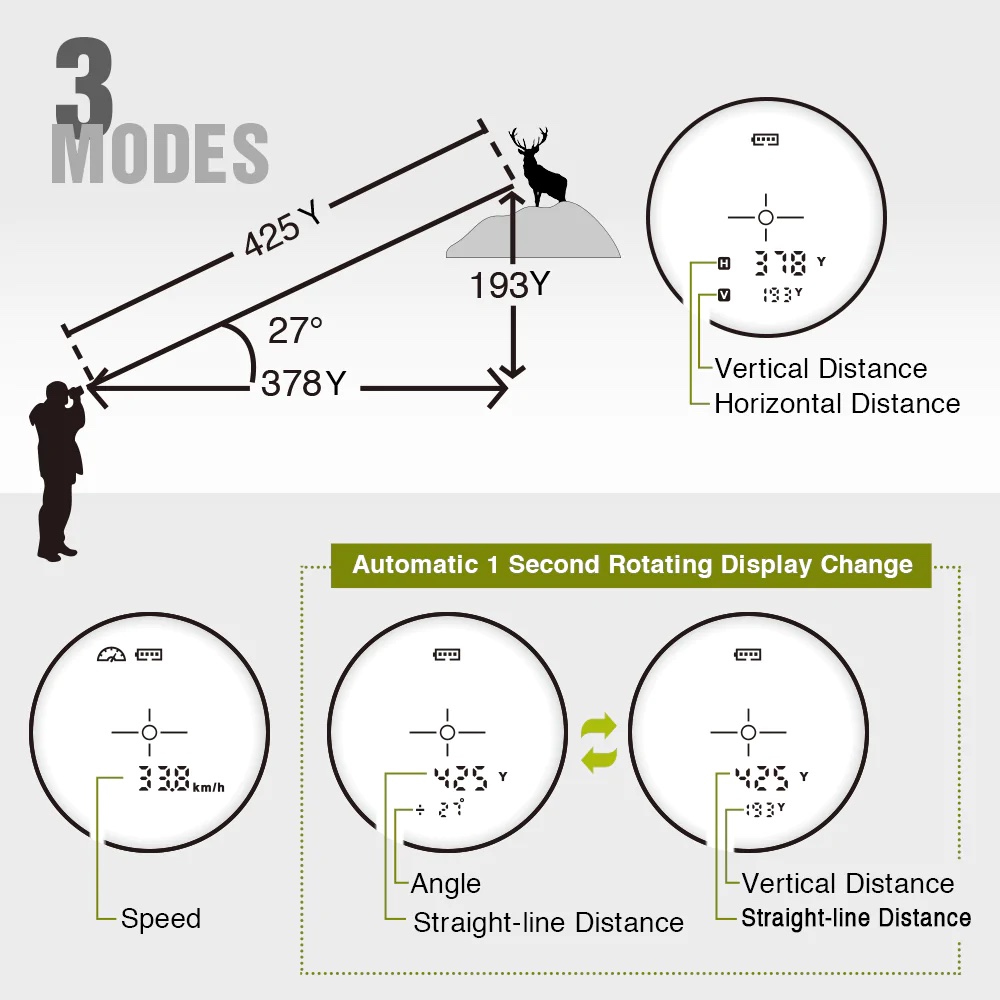 Another great feature of the TideWe rangefinder is that it will tell you the straight-line distance to a target, or it can factor in your elevation in relation to the target and give you the horizontal distance. That may sound a little confusing, but when you're shooting an animal that is higher or lower than you vertically, you want to aim based on the horizontal distance, rather than the straight-line distance. A lot of budget rangefinders only give the the straight-line distance, which could result in making a poor shot on an animal.
The TideWe rangefinder will also tell you how fast an animal is moving as you range it. I honestly can't think of a use for that feature, as I'm not going to shoot at a moving target to begin with, but that feature is there if you need it.
Ease of Use
The best thing about the TideWe rangefinder is that it's pretty much fool-proof for the technically challenged. It only has two buttons — the power button and mode button.
The power button brings the rangefinder to life. If you press the power button and release while aiming at an object, it will give you a quick range to that object. If you press and hold the power button, it will continuously scan the distance as you move the rangefinder around to different objects.
If you short press the Mode button, it will switch between the TideWe's three modes — straight-line distance, horizontal distance, and speed. If you press and hold the Mode button, it switches the readout between Meters and Yards.
Probably the feature that I was happiest to see on the TideWe Hunting Rangefinder was the fact that it's rechargeable. It has an internal 750MAH lithium-ion battery that can be recharged with the included microUSB cable. TideWe says you can get 20,000 ranges out of a fully-charged battery. If that's the case, I should be good for the entire deer season! I'll keep you posted on whether that holds true.
TideWe Rangefinder Pros and Cons
Pros
Compact and lightweight

Accurate out to 700/1000 yards

Compensates for elevation

Carrying case included

Very affordable
Cons
Readout is not illuminated
TideWe Rangefinder Warranty
The TideWe Hunting Rangefinder is warrantied against defects in materials and workmanship for a period of one year from the date of purchase. In the event of a defect, TideWe will repair or replace the defective rangefinder free of charge, or refund the purchase price. Products that have been repaired or replaced are warrantied only for the remainder of the unexpired portion of the warranty period.
Summary
If you're looking for a great rangefinder at an affordable price, then the TideWe Hunting Rangefinder is a great option. It's compact, lightweight, accurate, and easy to use. I really can't think of any reason to spend more on a different unit, unless you really need an illuminated display. I'm looking forward to fully testing out the TideWe through the upcoming deer season, and I'll be sure to update this article if any issues arise.