Best Hunting Kayak for Deer and Ducks [2022]
Last Updated on June 30, 2022 by Brian Grossman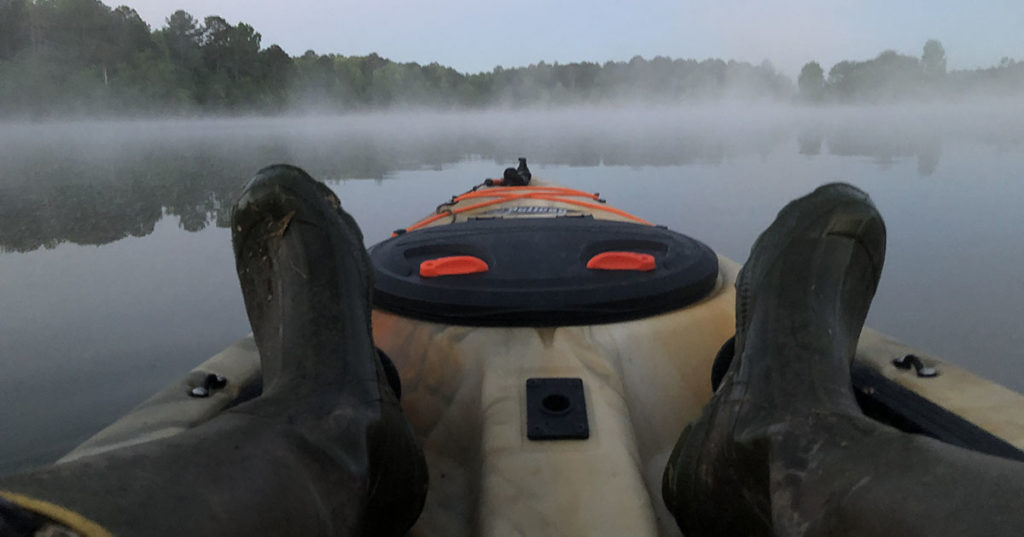 Choosing the best hunting kayak can be a time-consuming process. There are a wide variety of brands and models to choose from, each with its own unique features and specifications. This decision can be especially tough if you're new to the sport or want something versatile to take on different types of water and game.
In this guide, we've hand-picked the best hunting kayaks on the market today, with a focus on those best suited to deer and duck hunting. We cover the top features of each kayak so you can easily compare them and make an informed decision about which one works best for your needs.
While we'll dive into our hunting kayak picks next, be sure to read beyond those choices to see why a kayak may be your best option for deer or duck hunting, and what features are most important when choosing the best hunting kayak.
Best Duck Hunting Kayaks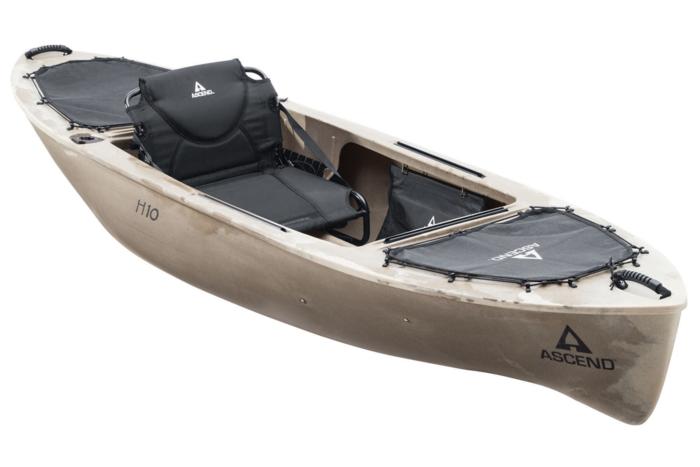 Ascend is a popular line of affordable kayaks sold through Bass Pro Shops and Cabela's. The H10 model is a sit-in hybrid model that features a hybrid tunnel-style hull that makes the kayak stable enough for standing.
The shorter 10-foot length and stepped bow/stern keel design allows the H10 to maneuver smoothly and quickly through rough open waters or smooth backwaters alike.
The H10's open deck design features front and rear storage bags that will keep all your decoys and duck hunting gear organized and easily accessible. The advanced seating system will keep you comfortable on long paddles into your most remote hunting locations.
Specifications:
Dimensions: 10 feet long x 31 inches wide
Weight: 55 pounds
Weight Capacity: 400 pounds
Warranty: 3 year
---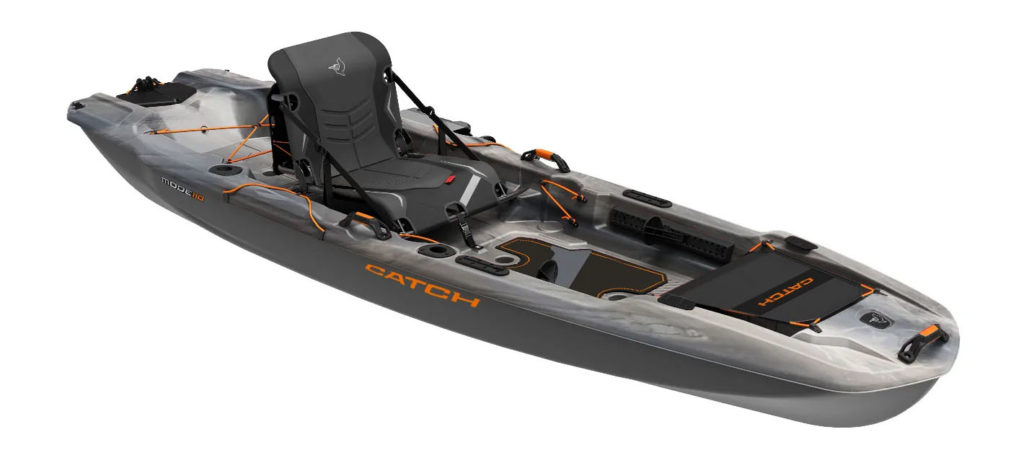 Pelican is another well-know manufacturer of affordable hunting and fishing kayaks. The sit-on-top design of the Catch Mode 110 offers excellent stability and easy maneuverability in a compact 10-foot design.
The Pelican kayak is made from premium RAM-X material that resists normal wear and tear and features a deck carpet to keep you from slipping when entering or exiting the kayak.
The Catch Mode 110 features comfortable ERGOBOOST seating in a nice, open cockpit so you can swing on those fast-flying teal uninhibited.
Specifications:
Dimensions: 10 feet 6 inches long x 34.5 inches wide
Weight: 67 pounds
Weight Capacity: 375 pounds
Warranty: Lifetime limited, 6 year parts
---

Our third option for a great duck hunting kayak is the Perception Pescador Pro 10. The one-piece polyethylene design is leak-proof and features built-in buoyancy for a more stable kayak.
The Pescador Pro 10 features large front and rear storage areas with built-in bungee cord lashes and a stretch-mesh bow storage cover so you'll have plenty of room to store all your duck hunting gear.
The world-class design provides stability and a secure paddling experience. The lawn chair style mesh seat provides all-day comfort and can be adjusted to two heights depending on whether you're paddling in or intensely watching for approaching ducks.
Specifications:
Dimensions: 10 feet 6 inches long x 32 inches wide
Weight: 57 pounds
Weight Capacity: 325 pounds
Warranty: 5-year limited warranty, 1 year parts
---
Best Deer Hunting Kayaks
Don't let the name fool you. The Brooklyn Kayak Company (BKC) RA220 Angler may be a great fishing kayak, but it's perfectly suited for deer hunting excursions as well.
The RA220 Angler is constructed of roto-molded, single-piece, high-density polyethylene (HDPE). Its 34-inch wide beam makes it extremely stable — so much so that you can stand up if needed. And the foot-operated rudder will help you navigate through backwater stickups as well as through rough open waters.
Four key storage areas, including a large open cargo area, make it easy to pack in your stand, bow or gun, and other hunting gear. The RA220 Angler features the highest weight rating of any of our best hunting kayaks at 550 pounds — plenty enough to pack out yourself, your gear, and that mature buck you've been after!
The BKC RA220 is our pick for best hunting kayak if it's deer you are after.
Specifications:
Dimensions: 11 feet 6 inches long x 34 inches wide
Weight: 68 pounds
Weight Capacity: 550 pounds
Warranty: 5-year hull, 1-year parts
---

The Perception Pescador Pro 12 is the big brother to the Pescador Pro 10 discussed above. Many of the same features carry over, including the spacious front and rear storage areas, comfortable mesh lawn chair seat, and plenty of accessory mounting options to help you outfit your kayak for deer hunting.
The extra length on the Pescador Pro 12 gives you added speed and stability, while still maintaining great maneuverability in a variety of water and weather conditions. It also features 50 pounds of extra carrying capacity for hauling your gear in and out, as well as the occasional deer.
Specifications:
Dimensions: 12 feet long x 32.5 inches wide
Weight: 64 pounds
Weight Capacity: 375 pounds
Warranty: Lifetime limited, 5-year hull, 1-year parts
---
Old Town canoes and kayaks are known for quality, and their price point reflects that. The Sportsman PDL 120 is the most expensive kayak on our list, but has a lot of high-end features, including a forward/reverse pedal drive.
That pedal drive, combined with the DoubleU pontoon-like hull, allows for stable, hands-free operation. In addition, the Sportsman PDL 120 features plenty of tracks for mounting accessories, cushioned floor pads to keep you or your gear from sliding around, and a super-comfortable mesh seat with lumbar support to keep you comfortable on those long paddles into your deer hunting location.
The Old Town Sportsman PDL 120 is the heaviest of the kayaks on our list at 87 pounds, but packs a respectable weight capacity of 500 pounds.
Specifications:
Dimensions: 12 feet long x 36 inches wide
Weight: 87 pounds
Weight Capacity: 500 pounds
Warranty: Limited warranty hull, 5-year PDL drive
---
Best Hunting Kayak for the Money

While we've covered some great kayaks on our list, but not every deer or duck hunter can afford to drop several hundred to a couple thousand dollars on a hunting kayak.
While the Tamarack Angler 100 kayak may lack some of the features of the more high-end kayaks, don't let that stop you from giving this one a look. The flat hull provides great stability, while the star bow gives the kayak excellent speed and tracking. The rear tracking keg makes it easy to keep your kayak headed in a straight line.
The Tamarack Angler has two storage hatches, as well as an open storage area behind the seat suitable for some decoys or your climbing stand. The seat is a little lacking on the Tamarack, compared to our other featured models, but it should be plenty comfortable for short paddles to and from your hunting location.
Specifications:
Dimensions: 10 feet long x 31 inches wide
Weight: 56 pounds
Weight Capacity: 275 pounds
Warranty: 5-year limited warranty
---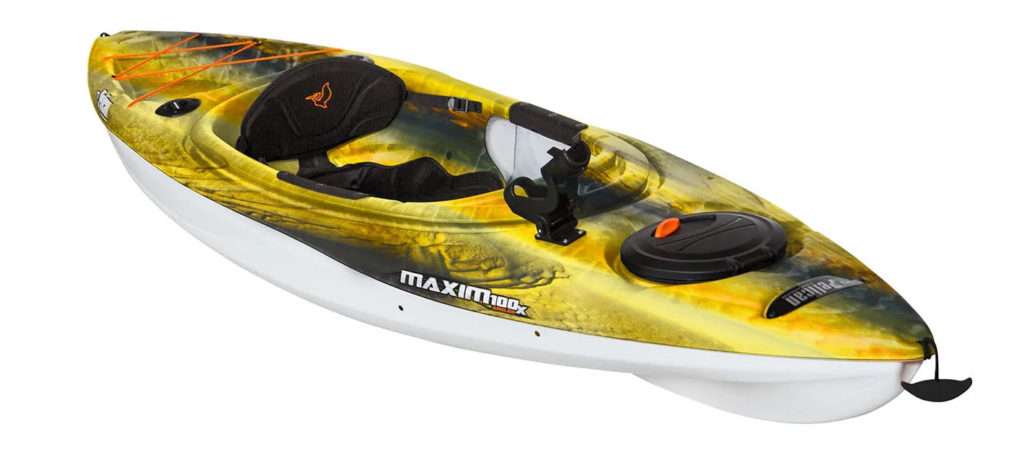 The Pelican Maxim 100X Angler Kayak is perfect for beginners. Like the Pelican The Catch kayak discussed above, the Maxim 100X is made with RAM-X Premium construction for maximum durability. The twin-arched multi-chine hull provides stability, maneuverability and tracking.
The sit-in cockpit features molded footrests and an ERGOFORM padded backrest with seat cushion for decent comfort for the price point. The front of the kayak has a quick-lock storage hatch, and the rear features a tank well with mesh deck cover to keep your hunting gear in place.
While the Pelican Maxim 100X Angler may not be the best hunting kayak, it's a great option for those on a budget.
Specifications:
Dimensions: 10 feet long x 28 inches wide
Weight: 38 pounds
Weight Capacity: 275 pounds
Warranty: Lifetime limited warranty on the hull and deck, 1-year parts
---
Why Use a Kayak for Hunting?
Kayaks are Affordable
Kayaks are typically a much cheaper alternative to traditional aluminum fishing boats, which can be a big draw for both veteran and first-time hunters.
Kayaks are Portable
In addition to their low cost, kayaks are also much more portable than traditional boats. With most of our top eight options in the 55- to 70-pound range, they can easily be handled by an individual. Their light weight also allows them to be easily transported in many cases without the need for a boat trailer.
Kayaks Can Navigate Where Other Boats Can't
Due to their small, narrow, lightweight design, kayaks can easily navigate shallow waters and narrow channels that may not be accessible by your typical john boat. This makes it possible to get to those hard-to-reach areas perfect for busting wood ducks or accessing unpressured whitetails.
Important Features in a Hunting Kayak
There are several key features to consider when choosing the best hunting kayak for your application. These include stability, tracking, total weight, and weight capacity. Let's take a closer look at each and why they're important.
Stability
The most important factor in choosing a hunting kayak is stability. Since duck and deer hunting often takes place in colder temperatures and with a lot of equipment, the last thing you want to do is flip your kayak. Overall width of the kayak, hull design, and added flotation material all have a major influence on stability, so carefully consider each while shopping for a hunting kayak.
Tracking
The ability for your kayak to track well is also very important. Tracking is simply the tendency of your kayak to head in a straight line. If you're constantly having to correct right and left to keep your kayak headed straight, you're going to exert way more energy than necessary. And the last thing you want to do is sweat and wear yourself down on a cool fall or winter morning.
Kayak Weight
Your hunting kayak's weight is also an important factor to consider. Probably more times than not you'll be hunting alone, so your kayak's weight must be manageable enough to load and unload by yourself. This is especially true if you'll be carrying your kayak on top of your vehicle. To make moving your kayak more manageable, you may want to consider a dolly to make the job easier.
Weight Limit
Another important factor to consider is the kayak's weight capacity. Not only does your kayak need to safely support your weight, but you also have to consider all your hunting gear as well. Hunting clothes, boots, decoys, a gun or bow, your treestand, or other gear can add significant weight to your load.
If you're using your kayak for deer hunting, then you'll also need to consider the weight of any potential deer you may have to haul out. Of course, there are other options — floats, a life jacket, or another kayak — that can be used to haul out the deer if your primary kayak can't support the extra weight.
Summary
A kayak can be the perfect tool to get you to those remote locations for unpressured deer or duck hunting and increase your odds of success in the field.
Fortunately, there are a lot of great kayaks on the market, and many of them will work great for deer or duck hunting excursions. My hope is this article will help you narrow down your options so you can choose the best hunting kayak for your specific needs. Consider the features that are most important to you — stability, tracking, weight, weight limit, and more — and pick the one that best suits those needs at a price that fits your budget.